JAGNA - The Local Government Unit (LGU) of Jagna headed by Mayor Exuperio Lloren is reminding its local taxpayers to settle their tax obligations ahead of the January 20, 2009 deadline to avoid penalties and surcharges.
Acting Municipal Treasurer Mr. Raymond Cuadra in behalf of Mayor Lloren made the notice as he reminded that the taxpaying period dubbed as "one-stop-shop" set by the LGU is from January 5 to January 20 at the Jagna gymnasium.
Mr. Cuadra encouraged new business permit applicants and those renewing to avoid the usual last day rush.
"However Mayor Lloren already approved an eight-day extension of the deadline for the one-stop-shop from January 20 to January 30 at the same venue but a corresponding surcharge of 25% will be imposed," Mr. Cuadra reported.
Since Jagna has been elevated to 3rd class municipality on July 29, 2008 a significant raise in business tax is now being imposed based on the average gross sales per day of a local business multiplied by 360 days.
The annual gross sales, is further multiplied by the business tax schedule in order to get the new realistic rates.
Nonetheless Mayor Lloren cited the local business sector for its contribution to the revenue program of the LGU which has helped push development including implementation of infrastructure projects, basic services, and livelihood programs.
To recall the one-stop-shop, now on its 5th year of implementation has remarkably made the renewal and issuance of business licenses and permits in the municipality more convenient by reducing the processing period to less than an hour.
The LGU gathered together all of its offices and national government agencies involved in the business licensing process at the gymnasium to facilitate the one-stop-shop service.
The Business Licen-sing Team said that for renewal of business permits and licenses, the requirements include previous Mayor's Permit, Zoning clearance, Building/Electrical Permit, Health Certificate, Fire safety certificate, Income Tax Return for 2008 and Gross Income Certificate signed by the Owner or Accountant for 2008, Barangay Clearance for 2009 and Department of Trade and Industry (DTI) registration for new business.
For new business permits and licenses, applicants are required to submit a Barangay Clearance for 2009, Lease Contract (if building or space of business establishment is rented), occupancy permit, and DTI Business Permit or SEC Certificate.
For the orderly convenience and comfort of local taxpayers, the one-stop-shop team has provided a cable television and cold water at the spacious gymnasium.
December 28, 2008: PADAGAN SA COMETA: Jagna prides itself as the original town with a show – now declared by the Jagna Culture and the Arts Council (JCAC) chaired by Mayor Exuperio Lloren as an Intangible Cultural Heritage – the centuries-old religious practice, the Padagan sa Kometa. After its completion in 1867, the present parish church of St. Michael the Archangel has been decorated with lanterns together with the Belen every Christmas season. Jagna oldtimers say that before the revolution against Spain, people were no longer content with decorating the church but decided on the idea of a bigger lantern (kometa) running from the choir loft to the Belen mounted at the altar, during the Christmas Vigil Mass, while the Pastorela's Gloria in Excelsis Deo is sung. When the Kometa approaches above the Belen it goes down thrice to pay homage to the Child Jesus before it stretches and displays its long tail. It remains suspended above the Belen until the Feast of the Epiphany. (Photo MPIO)
---
December 28, 2008: "OPUS ARTIFICEM PROBAT "(The Craftsman is Proved by His Work): After proving as worthy government employees of the Local Government Unit of Jagna for many years, Mayor Exuperio Lloren (3rd from left) leads in honoring the retirees during the LGU-Jagna Family Day and Christmas Program at the Roxas Park in Garcia-Hernandez on December 19. This year's retirees include (from left all holding their plaques) Revenue Collection Clerk 1 Mr. Benjamin Aclan, Day Care Officer Ms. Petra Escolano, Day Care Worker Ms. Lourdes Ladaga and Administrative Aide Mr. Mafril Rances. On the same program, two newly-promoted employees of the Municipal Assessors Office are also recognized to include Assistant Municipal Assessor (from being the LAOO 1) Ms. Marilyn Galolo-Ando and Local Assessment Operations Officer 1 (from being Assessment Clerk 1) Engr. Diosdada Ednalgan-Rañises. Also in picture to give their recognition are Vice Mayor Teofisto Pagar, Sr., Municipal Councilors Alberto Café, Cesar Cagulada and Pacheco Rances. (photo MPIO)
---
Ex-Jagna MPDC hurdles U.S. NCLEX- RN exams
By: Gregorio A. Tavera
December 21, 2008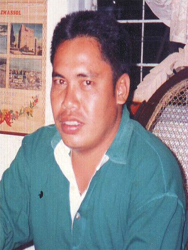 Engr. Ronie Tadena Galabo
JAGNA - Former Municipal Planning Development Coor-dinator (MPDC) Engr. Ronie Tadena Galabo luckily passed in the National Council Licensure Examination-Registered Nurse (NCLEX-RN) held in California, USA on December 5.
Engr. Galabo finished his Bachelor of Science in Nursing at the West Negros University in Bacolod City in March this year and immediately went the United States where his wife Ninotchka Angela Abrau-Tadena regularly works as a registered nurse.
His break in the government service was in 2001 and served as MPDC of the local government unit of Jagna for almost six years under the administration of Mayor Exuperio Lloren before he decided to resign for his second course.
The youthful engineer cum nurse is the son of Rustico Galabo and Yolanda Tadena of barangay Poblacion this town.
Both parents are retired teachers.
---
Brgy. Boctol celebrates 105th Founding Day
Model citizens recognized
By: Gregorio A. Taver
December 7, 2008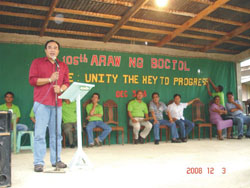 LOCAL HISTORY OF BOCTOL: "National history becomes intelligible only in the whole context of local history" is the clear message of the Sangguniang Bayan (SB) members led by Kag. Senen Lloren (at the podium) who graced in the 105th Araw ng Boctol on December 3. Onstage are some barangay officials of Boctol and some SB members. (photo MPIO)
JAGNA - Realizing that local history reflects their own identity, experiences and aspirations, the people of Barangay Boctol this town celebrated its 105th Araw ng Boctol on December 3.
Led by its newly-elected Barangay Captain Bonifacio Galorio and his local council, the initiatory commemoration bore the theme "Unity the Key to Progress".
"When I assumed office as the local head of our community, I soon recognized that Boctol has a rich local history. Aside from the Barangay Development Plan which was documented years ago we also rely on oral histories of our old fellow constituents hence we are able to come up this humble celebration for the first time", Galorio said in his welcome remarks.
Galorio added that to interpret the past of their locality is to embrace its political, social, economic, and cultural life so that they may be able to understand the successes and failures of the people of Boctol while at the same time plan concretely for future development.
Representing Mayor Exuperio Lloren are the five members of the 6th Sangguniang Bayan (SB) headed by Municipal Councilor and Vice-Chairman on SB Committee on Education, Culture and the Arts Senen Lloren.
Each of the SB members commended and challenged the barangay council and the people of Boctol to sustain the maiden celebration as they likewise encouraged the other 29 visiting barangay captains to replicate what barangay Boctol and Mayana as well are doing.
"Since the nation's history must be the sum total of the histories of its parts, no town or province exists independently of the nation, and vice-versa. And, just as the auto mechanic understands the entire machine only if he knew the specific parts, so also national history becomes intelligible only in the whole context of local history…so teach your pupils local history", said SB member Cesar Cagulada.
Highlighting the morning program despite the heavy downpour was the recognition of Michael Allan Tadle and former Barangay Captain Antonio Belara Sr. as model farmers for the vegetable gardening and crop categories respectively.
Farmer couple Mr. & Mrs. Flaviano Salas were awarded model parents after having raised and produced all four professional children.
A 23-year old lad Roel Lacar was commended model youth when he attested to the community that engaging in vegetable farming and planting forest and fruit trees in lieu of vices is indeed rewarding.
Founded on December 3, 1903 with Santiago Abrau as its first Teniente del Barrio, Boctol is located twelve kilometers away from the town proper.
It is one of the twelve barangays of Jagna that was identified as tourism site of the municipality where the Luinab Rice Terraces, a number of natural caves and a swimming pool are found. (with reports from MPIO)
---
DSWD officers learn social marketing of Jagna ESWM
December 7, 2008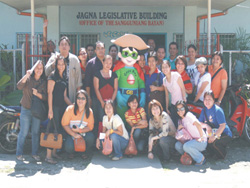 GARBAGE MANAGEMENT played to the hilt, Jagna local government initiative and will to pilot a garbage management program has allowed it to be a mecca for development planners who are now into the implementation of the country's ecological solid waste management program. Here, DSWD regional information officers interacted with local officials for their innovation. (PIA contributed foto)
JAGNA - Information packaged to change behaviors.
Knowing that the ultimate measure of effective information dissemination is behavior change, information officers (RIOs) from the Department of Social Welfare and Development (DSWD) agree that Jagna's innovative solid waste management program is a success, during a learning visit Wednesday, November 26.
Not only has Jagna pioneered the very touchy garbage tax fees, it has also stretched its garbage management program to include schools by enlisting the help of generators at source; the elementary kids.
Jagna now implements Young Eco Saver's Club, whose membership entitles one to a passbook detailing credits for practicing recycling.
"Points earned can be converted to goodies, a motivation that has not failed to attract kids participation while reinforcing the attitude to reuse or recycle," Councilor Senen Lloren said.
Awed at the innovation of getting kids and parents into recycling in line with the town's waste management program, DSWD social marketing Director Gerardo Eusebio admits indeed the town has successfully done a social marketing job.
Eusebio led the team of about 29 information officers learning social marketing strategies from models implemented for adaptation by the government agents in their social service projects in their respective areas.
The RIOs have been at Bohol Plaza Resort for a program review and evaluation workshop and training on information, education and communication development, public relations and advocacy and part of their activity is a filed trip to see the Jagna innovation, says Conchita Bigrnia, training facilitator.
During the visit, Bigornia said Jagna's trial and error implementation of ecological solid waste management program has graduated into one that is unique in the country.
Bigornia was one of Jagna's technical support specialists in contract with the country's environment agency through a program called Eco-governance.
Jagna has also conceptualized a mascot called GoyoBoy, a kid hero who advocates environment protection by proper garbage management.
According to Jagna Councilor Senen Llloren, Sangguniang Bayan environment committee, Jagna produces tons of garbage daily and growing population compounds the problem.
Now implementing ESWM in 8 of the town's 33 barangays, Lloren said the metro barangays produce about 40% of wastes.
He said he hopes the lessons people learn from Jagna can also be duplicated in areas, a humble legacy from a town that has started thinking about it and finally doing it. (rachiu/PIA)
---
DILG Cluster 3B LCE's reactivate OCOV in Jagna
November 30, 2008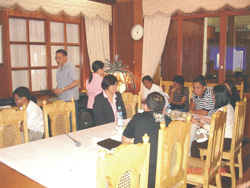 REACTIVATING THE OCOV: Cluster Management Board (CMB) Chairman Mayor Exuperio Lloren (standing in front of camera) serves as host to the one-day reactivation and review of the One Cluster One Vision (OCOV) project of the DILG at his office on November 26. In pictures are Valencia Vice Mayor Jorge Buslon (back on camera), Garcia-Hernandez Mayor Myrna Schreurs (seated next), Lila Mayor Telesforo Balagosa (seated at rear end), DILG Provincial Director Rose Mascarinñas (seated at opposite side) and some DILG Officers. (photo MPIO)
JAGNA - The five Local Chief Executives (LCEs) comprising the Department of the Interior & Local Government (DILG) Tact Cluster 3B conducted a reactivation lecture cum workshop on One Cluster One Vision (OCOV) project at Jagna Mayor's office on Wednesday.
Presided over by Cluster Management Board (CMB) Chairman Mayor Exuperio Lloren, the activity seek to reorient, review the OCOV Project and plan out the operation of the cluster tourism circuit which was formally organized in 2005.
The inspiring testimony of Mayor Lloren on his One Village, One Product (OVOP) trip to the Oita Prefecture in Japan last year highlighted the activity.
The OVOP of Japan is the basis for the DILG's OCOV project which the CMB hoped to successfully replicate through the guidance and partnership with the DILG Tact Cluster of the Local Government Units (LGUs) of Dimiao, Lila, Valencia, Jagna and Garcia-Hernandez (DiLiVaJaGahe).
By institutionalizing the OVOP in clustered LGUs, OCOV envisions to facilitate clustered LGUs develop into peaceful, revitalized, and self-reliant communities where there are equal opportunities to develop and market globally competitive unique local products reflective of their culture and heritage.
Under the existing cluster tourism circuit program each of the five LGUs had already identified its tourism enterprise to include the Agro Park of Dimiao, the Water Slide of Lila, the Badiang Spring of Valencia, the Tourists' Lounge of Jagna and the Roxas Park of Garcia Hernandez.
Capping the day's activity was the formulation of an action plan for 2009 to include the designation of a tourism officer for every municipality who together with respective Municipal Local Government Operations Officer (MLGOO) will compose the OCOV technical working group (TWG).
The said TWG shall conduct on-site visit on each LGU tourism enterprise and shall produce the cluster's manual and information sheet in January to be presented to the CMB in February next year.
The distinguished participants to the one-day activity were Dimiao Mayor Sylvia Adame with her husband and former Mayor Alejandrino Adame, Lila Mayor Telesforo Balagosa, Valencia Vice Mayor Jorge Buslon and Garcia-Hernandez Mayor Myrna Schreurs.
DILG Provincial Director Rustica Mascariñas gave the rationale of the activity and discussed the OCOV project and its implementation strategies.
Other participants included DILG Planning Officer Jose Jeffrey Bernasor, Tact Cluster 3B MLGOOs Vissia Bunado, Mary Ann Aparece, Sofronio Abing, Ismael Vincent Igcalinos and Ma. Reina Quilas.
---
Eight towns try to streamline "Unfriendly licensing process"
November 30, 2008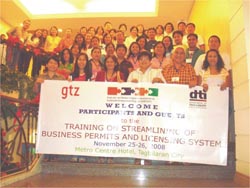 TRAINING PARTICIPANTS during the recent Streamlining Business Permits and Licensing System pose for posterity. (PIA-Contributed Foto)
STREAMLINING business process to make them investor friendly, Bohol Micro, Small and Medium Enterprise Development (MSMED) Council has accomplished with a partner the forging of agreements in trainings for eight towns here, a highlight in the first Bohol MSME Xperience held at the Island City Mall, Thursday, November 27, 2008.
Early surveys pointed out that cumbersome business processes here have become turn-offs for investors wanting to sow capital in the country.

Cumbersome process here comes in lengthy registration and in unreasonable licensing steps.
These have been identified as major discouraging factors of investors' while the country loses capital that could have been important in perking up local economies.
Here, Bohol tapped the support of the German Development Foundation (GTZ) through its Small and Medium Enterprise Development for Sustainable Enterprise Promotion (GTZ-SMEDSEP) program.
Now 8 towns have undergone two training workshop modules, sources at the Department of Trade and Industry (DTI) pointed out.
The GTZ, in their belief in the promise of putting up the needed vigor in small and medium enterprises in the countryside would jumpstart local developments has been kind enough to fund the pioneering activity, DTI said.
The training workshops on Business Process and Licensing System attempts to simplify the seemingly endless paperwork needed before one investor can establish his business in the place, DTI said.
The towns of Jagna, Talibon, Ubay, Tubigon, Antequera, Balilihan, Cortes, Maribojoc have passed the first workshop on November 14-16, the source added.
Moreover, the same towns have also done the second workshop last Tuesday and Thursday, all to the goal of making the crucial business registration processes streamlined to cut red-tape and straighten the bureaucratic snags.
The development also forms part of the report during the highlights and accomplishments reported by the SMED Council.
That same day, DTI regional Director Asteria Caberte presented the winners of the Pambansang Pamilihan after an extensive search for Bohol's most customer friendly public and private markets.
At the gathering in Tagbilaran City's biggest Mall, HNU Consumer Group was also presented and the event also featured a talk show billed as Pagpalambo sa atong negosyo.
The show host Blair Panong elicited business tips from Bohol's major entrepreneurs including JJ's food and restaurant chain great Jun Caturza, farmer entrepreneur Nador Tadena who is the province's leading supplier of Japonica rice variety, Arnold Labunog of Jojie's Bakeshop fame, Frank Montero of the Alona Tropical Resort, Mayor Roberto Salinas for the Abatan River Development Management Council and Aster Caberte for the DTI-Regional Office.
The day's activity also included a press conference aired live over local radio stations under the Bohol Tri-Media Association.
Moreover, the day also featured a financing forum where four financing institutions presented their programs for SMEs.
Another highlight was speed networking, a venue for business matching among entrepreneurs and marketing contacts.
Also featured during the day was techno-preneurship, the sharing venue for Bohol's successful IT practitioners. (PIA/rachiu)
---
Slovenian speleologists resume cave expedition in Jagna
November 23, 2008
JAGNA - A team of nine speleologists or cave scientists from the Republic of Slovenia revisited the municipality of Jagna to resume and finish their 1999 cave exploration project particularly at the Ka-Eyang Cave in Barangay Odiong on November 15-20.
Headed by University of Ljubljana's Zoology Professor and renowned speleologist Dr. Boris Sket, the team continued to do scientific studies of the Ka Eyang Cave, one of the six caves which they had explored in the said barangay in 1999.
In the Bulletin of the Speleological Association of Slovenia entitled "Nase Jame" published in 1999, Dr. Sket quoted on his report on the Jagna Exploration Area that it was unfortunately impossible for them at that time to push any further the exploration at the Ka Eyang cave due to lack of time as the expedition members had to leave Jagna the following day.
The report added that the presence of huge amount of guano and many rats likewise hindered them to go on so they just carried out line surveys with few observations of passage details.
The total traverse length was already 2300 meters. "We resumed the Ka Eyang cave expedition since afternoon of November 15 yet the team has not found the end of the cave until now. Probably, this cave is the largest and the longest in Bohol", said Andreya Kladnik, the only woman in the team when interviewed four days later.
"Our role is to assist Dr. Sket in his biological investigations by measuring and mapping the surveyed passages. We also study the stalactites and stalagmites and other living species inside the cave", Ms. Kladnik added.
Some of the caves explored by the team in 1995 included Carmolaon I and II both of sitio Kalooy in Brgy. Cantuyoc plus the Buyog cave in Brgy. Buyog.
Dr. Sket's exploration of the Carmolaon II cave which is 145 meters deep led him to officially declare it as the deepest chasm in Bohol and 2nd deepest in the entire nation.
In 1999, the team was able to explore Buho sa Kagang, a cave formed by erosion of waves in one of the sea cliffs in Brgy. Tubod Mar.
Six caves in Brgy. Odiong were also explored namely Dagutdot, Demet, Kabulihan, Odiong, Payhad and partly the two kilometer stretch of Ka-Eyang.
To recall Dr. Sket's caving expedition in 1995 and in 1999 to Bohol was organized in the frame of the 25th anniversary of their club in Slovenia.
The main thought of speleobiological outlook was on top of his mind. Interestingly the said mission became helpful and scientifically significant not only to the local people but also to the local officials.
Bohol spelunker and cave specialist Junjie Madroñero served as the team's guide.
---
U.S. defense contract agent passes away at 72
November 23, 2008
JAGNA - Jagna native and United States based Defense Contract Management Agent Toribio Cuarto Villacastin died of heart ailment at age 72 in his New York City residence on November 14.
Dodo, as he is fondly called by relatives and bosom friends here and abroad is survived by his wife Cornelia Unabia-Villacastin and sons who are both U.S. Navy Officers Michael and Andrew Villacastin and daughter Gemina Villacastin-Mamhot who are all based in the U.S.
The late Villacastin is also survived by his siblings here in the Philippines to include the late Jovencio, a physician by profession based in Digos City, Aida Villacastin-Tan now based in Iligan City, Exuperio, a retired Police Captain of Cebu City and Alexander, the ex-Mayor here and former Provincial Board member of this province.
The remains of Toribio Villacastin will arrive here on November 22 from New York and interment will be on the 29th at the Jagna-Pangas Catholic Cemetery in Barangay Tejero.
---
JAGNA - Si Angel Pearl Sedavia, lima ka tuig ug tinun-an sa Tejero Day Care Center sa Jagna maoy naka-waw sa mga hurado ug mipilde sa 16 ka mga contestants sa gipahigayon nga "Draw and Tell" contest didto sa SM Cebu Entertainment Hall bag-o pa lamang.
Si Angel, kinsa ubos sa pagtudlo ni Day Care Worker (DCW) Ms. Imelda Vallente maoy nakalingaw sa mga hurado ug sa katawhan nga mitambong tungod sa iyang tataw nga pagpasabot sa iyang drawing nga gibase tema sa sa kasaulogan sa children's month theme ning tuiga nga "BRIGHT CHILD: Sa tamang pag-aaruga, kinabukasan ay maginhawa".
Kamanghoran nga anak nila ni Harold ug Marybeth Sedavia, si Angel maoy nag-inusarang official contestant sa Bohol ngadto sa Region 7 competition human siya midaug sa provincial level elimination round.
Si Angel nakigtigi sa 16 ka mga city ug provincial winners gikan sa Cebu, Negros Oriental ug Siquijor.
Dala niya sa iyang pag-pauli mao ang cash prize nga P2,500 ug usa ka tropeyo.
Tinuod gayod nga anaa sa dugo, si Angel manghod sa laing Region 7 Champion sa draw and tell contest nga si Sheila Christine Sedavia.
---

Ni: Edward Guyano
Nobyembre 9, 2008
JAGNA - Tungod sa suliran sa pagsikop sa mga malapason diha sa atong mga kadagatan (coastal areas) gikan sa lungsod sa Loay padulong na ngadto sa lungsod sa Jagna, ang Philippine Navy mibutang na sa ilang bag-ong detachment nga naga base didto sa lungsod sa Jagna.
Mao kini ang gibutyag ni Mr. Boy Pernia atol sa governors report kaniadtong Byernes.
Matud ni Pernia ang mga sakop sa Navy mao na karon ang motabang sa mga coastal enforcers nga maoy molibot sa kadagatan gikan sa Loay lahos sa Lila ug hangtud na sa Jagna.
Ang natumbok nga mga tinugyanan sa kadagatan dili kini ubos sa CLEC kon dili sa Philippine Navy nga mao ang moabag sa pagsikop niadtong mga malapason nga mga mananagat.
Kahinumdoman nga gipagwas dinhi sa JBBN ang pagtumaw sa problema diin pakyas ang mga sakop sa bantay dagat pagsikop sa mga malapason didto sa lungsod sa Lila gumikan sa kakulang sa mga kahimanan sama sa patrol boat nga magamit sa paglutos sa mga malapason.
Hugot nga gipaniguro ni Pernia nga ang dugang nga barko nga mag patrolya diha sa mga coastal areas mao karon ang sulbad sa kapalpakan sa pagukod niadtong mga mapahimuslanon nga mga mananagat nga nagagamit sa mga ginadili nga panagat.
---
Jagna's Ubi powder is best FITS product

October 26, 2008
JAGNA'S Ubi Powder was awarded Best FITS Product in the search for outstanding performance by the different Farmers' Information and Technology Services (FITS) centers at the Bohol Cultural Center in Tagbilaran City very recently.
Although a novel product, Jagna's ubi powder has already established a market and has the potential to expand share in the market.
With appropriate product packaging and a little of aesthetic presentation such as design and proper labels, it added value to the product thus enhancing its price and profitability.
The Techno Gabay Awards was aimed to encourage the different FITS centers to raise the level of their performance as it likewise enhanced the functionality of all FITS centers in Bohol and improved the level of commitment of the FITS center.
It was also expected that the search would increase awareness of the public on the services of the FITS center and its functions.
The Provincial Techno Gabay Steering Committee conducted three levels of evaluation.
The first one was led by the Office of the Provincial Agriculturist Bohol, which is hosting the Provincial FITS (ProFITS) while the second group was headed by the Philippine Carabao Center in Ubay which is hosting the FITS at Ubay Agri Park.
The Central Visayas State College of Agriculture, Forestry and Technology (CVSCAFT), which is also hosting a FITS center in their Bilar Campus, is in charge of the third group.
Although the ProFITS and FITS at Ubay Agri Park and CVSCAFT in Bilar are not part of the search representatives from PCARRD and the Central Visayas-Consortium for Integrated Regional Research and Development are helping the three teams of evaluators in the conduct of the search.
The award inclusive of P40,000 cash and a certificate was received by Jagna Municipal Agriculture Officer Camilo Rizano in behalf of Mayor Exuperio Lloren who was on official business in Manila at that time.