BALITANG LOKAL (TAGBILARAN CITY)

Mga kawata'g dropwire nadakpan na
Hunyo 22, 2008

Tagbilaran City – Nadakpan sa kapolisan ang duha ka mga gikatahapang nalambigit sa sunod-sunod nga pagpangawat og mga linya o drop wire sa koryente kaniadtong Martes (Hunyo 17) sa buntag.

Ang duha giila nga sila Jason Basalo ug Arnel Garcia, pulos mga ulitawo ug walay trabaho.
Si Basalo molupyo sa Barangay Timbagan, Maribojoc samtang si Garcia, taga-Brgy. Tagustusan, Balilihan.

Ang mga suspetsado positibong nailhan sa mga residente sa Barangay Dampas ning dakbayan nga maoy tigkawat sa mga linya sa koryente.

Nakuha sa ilang posesyon ang pipila ka metro sa alambre sa koryente.

Kasamtangang gitanggong ang duha sa Tagbilaran PNP jail samtang giandam pa ang mga kaso batok kanila.

Sa milabayng mga semana, ubay-ubay ang mga kaso sa pagpangawat sa mga drop wire ang natala sa kapolisan, diin bisan mga live wire ang makawat.

Human makawat ang mga copper wire ipangbaligya kini ngadto sa mga junk shop. DM

Mayor Dan Lim gidayeg sa BAYAN
Ni: Rey Dalay
Hunyo 15, 2008
Mayor Dan Lim

Tagbilaran City - Ang isyu kalabot sa giduso nga franchise tax sa Bohol Light Company, Inc., isip dugang buhis nga pas-anon sa mga kunsumidor, dili makiangayon ug usa ka matang sa pagpahimulos.

Kini maoy mensahe sa grupong BAYAN pinaagi sa secretary general John Ruiz nga ilang gipadangat agig pagsupak sa tinguha sa BLCI.

Dili makiangayon sa katarungan nga isip usa ka profit-oriented company, mobayad sila sa buhis isip ilang obligasyon ug kini magagikan unta sa ilang ganansya ug dili sa bulsa sa mga kunsumidor.

Usa kini ka pagpahimulos sa Electric Power Industry Reform Act diin mga pobreng konsumidor ang gipahimuslan.

Sukad pa sa pagkamugna sa privatization o joint venture agreement sa duha ka provincial public utilities, tubig ug kuryente, ang BAYAN-Bohol nagpakita na sa ilang pagsupak pinaagi sa mga pamahayag, protesta ug martsa sa kadalanan.

Ang mga nag-unang serbisyo sama sa tubig ug kuryente angayan unta itugyan sa mga kamot sa katawhan o kaha sa estado ug dili sa mga kamot sa mga hakog og ganansya nga kapitalista, nga dali rang mopahimulos sa mga konsumidor.

Pabilin nga taas ang balayronon sa kuryente karong panahona tungod kombinasyon sa mga hinungdan ug palisiya nga giumol Electric Power Industry Reform Act ingon man ang makasaysayan nga panghitabo sa dili maayo nga pag-ugmad sa power sector.

Ang EPIRA, nga gi-aprobahan niadtong tuig 2001 sa administrasyong Arroyo, nagpanday sa mga lagda sa deregulation ug privatization sa power sector.

Kini usab maoy nagpa-lighot sa power rates ngadto sa generation, transmission ug distribution.

Nagkanayon ang grupong BAYAN nga kinahanglan gayod nga kontrolon sa estado ang pag-ugmad sa power sector kon seryoso man gani kita paghatag og pagtagad sa presyo sa kuryente.

Gidugang usab sa BAYAN nga ang pagpanag-iya sa estado sa power sector magkahulugan nga pag-ugmad sa kapasidad sa kuryente sa nasud sa ingon adunay igong suplay nga maabot ang presyo.

Kinahanglan usab ang mga lagda sa presyo niini pagprotekta sa mga konsumidor sa mga kwestyonable nga balayronon.

Ang EPIRA angayan ibasura kon seryoso man gani ang paghatag og solusyon sa taas nga presyo sa kuryente.

Ang pagduso sa franchise tax ngadto sa mga konsumidor kinahanglan batukan. Ang mga opisyal sa kagamhanan kinahanglan manalipod sa katawhan gikan sa dili makiangayon ug mapahimuslanong mga pribadong tawo nga tighatod sa nag-unang serbisyo.

Gidayeg usab sa Bayan si city Mayor Dan Neri Lim sa iyang personal nga pagpangulo sa katawhan aron pagsupak ug leading the people as oppositor ug pagpataliwala sa katuyoan sa BLCI.

Samtang gidugang usab sa Bayan nga ang 12% Value Added tax or VAT sa kuryente maoy laing gipas-an sa maga konsumidor, kinahanglan kining tangtangon, aron paghatag sa mga konsumidor ug dinaliang paghupay sa panahon diin tanang galastohan nagsaka gawas sa ilang kita.

Ang privatization ug deregulation angayan balihon. Ang kagamhanang probinsyal kinahanglan mopadayon sa plano niini nga buy-back operation sa BLCI ug BWUI kon tinuod man gani nga seryoso kini sa pagpanalipod sa katawhan gikan sa dili makiangayon ug mapahimuslanon nga balayronon sama sa franchise tax.

HUMABOL mipahigayon og rally ug protesta kontra CARP
Ni: Rey Dalay
Hunyo 15, 2008

Ang militanteng grupo dinhi sa lalawigan nga gilangkoban sa mga mag-uuma mipahigayon og protesta pinaagi sa pag-martsa sa kadalanan dinhi sa dakbayan agi og pagsupak sa padayong lugway sa Comprehensive Agrarian Reform Program.

Nanawagan usab ang maong grupo alang sa pagpasar sa usa ka balaodnon nga giduso karon sa kongreso sa mga party list congressmen, House Bill no. 3059 o the Genuine Agrarian Reform Bill.

Misinggit og inhustisya ang mga nagprotestang sakop sa HUMABOL agig paghandom sa kamatayon ni Bayan Muna ug HUMABOL leader Mario " Mayong Mag-uuma" Auxilio, kinsa gipusil sa usa ka suspetsado nga matod pa military asset niadtong Hunyo 15, 2007.

Ang maong kalihokan adunay tema: TINUOD NGA REPORMA SA YUTA ANG TUBAG SA KRISIS SA BUGAS UG PAGKAON! DILI KORUPSYON, MILITARISASYON, CARP EKSTENSYON ug GMA ADMINISTRATION!

Nagtapok ang mga nagprotesta atubangan sa Department of Agrarian Reform office ug nagmartsa paingon sa Kampo Dagohoy diin gipahigayon ang 5 ka minuto nga rally aron pagpangayo og hustisya alang kang Mayong ug uban pang mga biktima sa political killings sa nasud.

Nagkanayon ang HUMABOL nga sukad pa niadtong tuig 2001, ubos sa rehimeng Arroyo mokabat na ngadto sa 903 ka mga biktima, 419 mga mag-uuma, ug 193 kaso sa pagkahanaw.

Big Mama's American Cookies now available at ICM
By: Priscilla Richards
June 15, 2008
This writer (left) with her daughter Cathy (right) together with ICM purchasing manager Ms. Esther Pacot

Always while keeping busy as Bohol's only foreigner in the local media, and being a surrogate mother now for grown up children.

This writer along with soon to be adopted daughter "Cat" went to the office of a good friend known as Ma Nora we presented her with a bag of cookies.

While visiting Nora she was not able to stop from eating one delicious cookie right after another.

Nora made a grand suggestion to market the cookies in the Alturas Co. stores during our visit with her.

Last June 8th, "Cat" and Big Mama filled the purchase order from ICM and delivered Fresh home baked and piping hot cookies straight out from the oven which are the next best thing too Mama's homemade American Spiced Apple Pie.

These cookies are now available at ICM Mall ad the sale ideal came from Ma. Nora Pahang long time management of the Alturas Company HRD office.

The cookies are made from real peanut butter, chocolate chips, and dairy butter.
After "cat" was not able to enroll into summer school while her seaman father went to duty a promissory note was not good enough to enroll her to catch up on her two subjects needed to get her four year diploma.

This big mama thought it was better too teach "Cat" how to move ahead with out always having to pay the way to get a passing grade. (Part of the discrimination here for OFW kids if first month allotment is late).

At school "Cat" makes money on the side as a project artist as she is also having a great gift in drawing and art's.

Many class mates ask her favor's for doing they're assignments. (They often tip her).

I was so thrilled as well as complimented by my good friend Nora at Alturas Co. to have suggested the selling of our American flavored cookies.

I knew this was also going to be a good way to put some responsibility into her young mind and show her how business works while at the same time giving her a sense of pride.

This writer Mama is raised in the restaurant business and knows how to make customers want to keep on returning back to buy and eat quality 100% ingredients flavored products.

Right now the cookies are found near the pasalubong section of the ICM grocery and the cookies are also available thru advance payment with special order for your event.

The cookies come in sets of 24 pieces. All one flavor or you can have a pack with the three assorted varieties.

The name speaks for itself "BIG Mama's AMERICAN FLAVORED COOKIES".

FSP ipadayon
Ni: Edward Guyano
Hunyo 15, 2008

Si Dr. Elpedio Jala ang DepEd Superentindent sa lalawigan sa Bohol miawhag nga ipadayon gayud ang Food for School Program nga pagsupply ug bugas tagsa ka kilo matag grade I pupil sa atong lalawigan tungod kay gikinahanglan kaayo kini sa mga kabataan.

Mao kini ang giluwatang pamahayag ni Jala dihang gikahinabi ning tigbalita dili pa lamang dugay.

Matud ni ni Jala nga siya miawhag ngadto sa Provincial School Board diin ang chairman niini mao si Gobernador Erico Aumentado pinaagi sa usa ka resolusyon nga ipadayon ang pagsupply ug buagas sa mga grade I pupils.

Gidugang ni Jala nga angayan gayud kini nga ifollow-up tungod kay mao kini ang nakahatag ug ineteres s mga kabataan nga moeskuyla kay makadala man sila ug usa ka kilo nga bugas inig pauli nila sa ilang balay.

Kon mahinumduman si NFA Administrator Jesus D. Navaro miawhag nga isuspinso una ang pagsupply dinhe sa Bohol tungod usab sa order sa Pangulong Gloria Macapagal Arroyo nga ikansila ang supply sa mga kabataan dinhe sa lalawigan apan gipadayon kini sa ubang mga probinsya.

Subay niini nanawagan si Jala nga gikinahanglan gayud kini dinhe sa atong probinsya kay dako kini ug gikatabang sa atong mga kabataan ilabina kadtong kulang sa pagkaon.

BDRC itugyan ngadto sa BJMP
Ni: Edward Guyano
Hunyo 8, 2008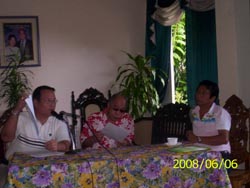 Si Gobernador Erico B. Aumentado atol sa iyang Governor's Report kaniadtong milabay'ng Biyernes, gipresentar usab ni Col. Edgardo Ingking ang kopya sa mga kontrabando nga ilang nakuha sulod sa BDRC, samtang naminaw si Provincial administrator Atty. Tomas Abapo, Jr. (Edward Guyano)

Ang Sangguniang Panlalawigan atol sa ilang sinimanang tigum kaniadtong Martes mipasar og resolusyon nga nag-awhag kang Gobernador Erico B. Aumentado aron sa pagsugod na sa pagsabot-sabot tali ni kalihim Ronaldo Puno sa Department of Interior ang Local Government (DILG) kon mahimo ba nga itugyan ang BDRC ngadto sa Bureau of Jail Management and Penology.

Kini maoy nauyonan sa hunta probinsyal atol sa ilang tigum human mahitabo ang kaguliyang diha sa maong bilanggoan nga nahimutang sa distrito sa Cabawan ning dakbayan sa Tagbilaran.

Nagtuo ang mga magbabalaod nga kon ang BJMP na ang magdumala sa maong bilanggoan dunay dakong kausaban sa pagpadagan niini.

Usa usab ka bokal ang mipasabot nga kon BJMP na ang magdumala dili na unya mag-abaga sa dakong galastohan ang kagamhanang probinsyal.

Samtang gipaniguro ni Gobernador Erico B. Aumentado atol sa iyang governor's report kaniadtong milabay'ng Biyernes ang kahapsay na unya sa maong bilanggoan.

Matud sa gobernador nga iya nang gitahasan si PNP Provincial Director Col. Edgardo Ingking kinsa maoy nangulo sa gihimong paghibalik sa kahapsay ug kalinaw sa maong bilanggoan.

Subay niini, giawhag usab sa Gobernador ang hepe sa Provincial General Services Office Engr. Rosalinda Yu sa pagpadali sa mga pasilidad sa maong bilanggoan sama sa pagtukod og visitors lounge kansang tuyo niini mao nga dinhi ipahigayon ang panag-isturyahay tali sa binilanggo ug sa moduaw niini.

Gipasabot usab sa Gobernador nga ang mga reglamento sa BJMP mao gayud ang ipatuman diin ang mga binilanggo gihatagan na usab sa maong reglamento.

Gidugang sa Goberndor nga wad-on na ang paghatag og subrang prebilihiyo ngadto sa mga inmates alang sa tukmang siguridad.

Si Col. Ingking sa iyang bahin mapasalamaton usab sa mga mibulig sa kalampusan nga nakab-ot sa iyang mga sakop nga misangko sa pagpahioli sa kahusay ug kalinaw sa maong bilanggoan.

Siya usab mi awhag sa Gobernador nga unta kahatagan og pasidungog kadtong mga elemento sa kapolisan nga nahilambigit sa maong kalampusan.

Bol-anon motanyag programang sagopon sa ASEAN youth


Ni: Rey Chiu / PIA
Hunyo 8, 2008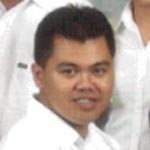 Benjie Oliva

USA ka Bol-anong lider sa mga kabatan-onan maoy mopadayag sa duha ka dagkong sugyot sa mga kabatan-onang Pilipino ngadto sa Association of South East Asian nations Senior Officials Meeting on Youth (SOMY) sa Changmai ug Bangkok sa Thailand.

Si National Youth Commissioner sa Visayas Benjie Oliva kinsa mao usab ang representante sa nasud makigtigum sa mga opisyales sa ASEAN lakip na ang China, Japan ug Korea sugod karon, Hunyo 1-6, 2008.

Itanyag ni Comm. Oliva ang laraw nga ipatuman ang ASEAN Ten Accomplished Youth Organizations (ASEAN-TAYO) ug ang ASEAN Youth Summit.

Kini nga duha ka programa sa kabatan-onan, una na nga gipatuman sa Pilipinas ug naka-ani ug pagdayeg sa kadaghanan.

Dungan niini, maghatag usab si Oliva sa mga katikaran sa nasabutan sa mga ASEAN youth officials human sa nahitabo nga bansaybansay sa pag-ugmad sa batakan alang sa Coaching ug Mentoring sa mga out of school youth kabahin sa pagpamuhunan.

Kini nga kasabutan naaprobahan niadtong katapusang APEC-HRD nga tigum dinhi sa Bohol Beach Club, Panglao, Bohol niadtong March 2008.

Ang ASEAN Senior Official Meeting on Youth (SOMY) matud ni Oliva, gimugna isip maoy higher level nga pundok nga magtuki sa kaparehas nga mga sulirang sosyal sa mga kabatan-onan sa mga sakop nga nasud.

Dugang niya, ang SOMY sakop na sa ASEAN institutional framework nga magtaho sa mga pangulo sa ASEAN pinaagi sa ASEAN Ministerial Meeting.

Kaso ni Olayvar, mahimong banhawon


Ni: Rey Chiu / PIA
Hunyo 8, 2008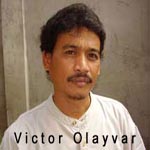 Victor Olayvar

SA bag-ong ebidensya nga mitumaw kalabot sa pagpusil patay kang kanhi Bayan Secretary General sa Bohol Victor Olayvar, mahimo nga ipasakag usab ang sumbong ginamit ang bag-ong kasayuran.

Kini ang bag-ong pamahayag ni kanhi Police Provincial Director Arturo Evangelista, kinsa nagpasaka sa sumbong sa iyang panahon isip kinatas-an sa kapolisan sa Bohol.

Matud ni Evangelista, nagdumili kaniadto ang asawa sa namatay nga mohimo ug pamahayag bisan gipatawag sa imbestigasyon, apan mipagawas kini ug pamahayag dihang gihimo ang Congressional Hearing on the extra-judicial killings dinhi sa Bohol sa milabay'ng semana.

Kahinumduman nga si Olayvar, usa ka inilang bokal nga aktibista, gipusil patay didto sa Cantubod, Danao niadtong Septyembre 2006.

Nakasaksi sa pagpusil patay si Joy Ayag maoy nagmaneho sa gisakyang motorsiklo. Si Elena Olayvar, kinsa asawa sa namatay mibutyag, ang iyang bana nakig bayloay sa text sa suspitsado nga una na nga gitaral apan napamatud-ang walay sala sa kakuwang sa ebidensya.

Gawas niini, gipaabot pa usab sa mga Bol-anon nga kahatagan na ug katin-awan ang uban pang mga gipasangil nga extrajudicial killings nga nagpanghitabo dinhi.

Kini usab samtang ang Department of Justice (DOJ) namahayag ang Task Force 211 padayong naghusay sa mga giingong extra-judicial ug political killings sa nasud, lakip na ang Bohol.

Matud ni DOJ Undersecretary Ricardo Blancaflor, 34 na ka kaso sa extra-judicial killings ang nasolbad samtang padayon pang gi-monitor ang laing 200 ka sumbong nga kaso.

Patin-aw niya nga ang kalampusan sa Task Force tungod kay nakig-alayon kini sa kagamhanan ug sa katilingban sa pagpalutaw sa mga ebidensya ug kining paagi naka-ani ug tabang sa katawhan.

USAID conducts 2-day seminar on OFW and Anti Trafficking in Persons
By: Priscilla Richards
June 8, 2008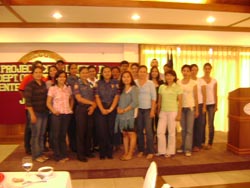 Participants of the 2-day OFW and Anti-Trafficking in Persons seminar held at Soledad Suites, Tagbilaran City. (Priscilla Richards)

Some transit drivers and owners of public transportation stated this week in a two day seminar said that it is hard exactly to identify those persons who ride the transit systems as to who are those persons that are being illegally transported, to other destinations and being used for illegal purposes.

During a USAIDS seminar and briefing held this past week at Soledad suites given by Anne Fox who represents the USAID office in Makati City.

The two day briefing and seminar was attended by workers of Coca Cola, Bohol Tourism Office, along with child and social workers, and the Philippines provincial women's and children's police desk.

The two day seminar covered the topic of R.A. 9208 "Anti Trafficking Act of 2003". The two day event also focused on Illegal Acts of job hiring by illegal recruiters, and discussed on how to handle and fill out forms of persons who are victims in such activity.

It was also suggested by one member of the media who was present for the two day seminar that at all ports of entry there should be a sign posted or flyers handed out to tourist who do not know the laws when it comes to dating women here or handed out to those persons who may want the hiring of Philippines persons by means of an illegal recruiting company.

Many foreigner men coming to the island often do not know what the laws are when it comes to dating women who might be under age.

They will come here to live and end up becoming domesticated and have helpers working for them and these foreigners should be guided as in how to conduct and treat the domestic help as mentioned as concerns by some who attended the seminar.

The tourism department for Bohol liked the suggestion and at the end of the first day's seminar was seen trying to ask the PNP personal who attended on what things should be included of such an information sheet.

What is Trafficking in Persons?

Trafficking in Persons is an illegal act and is considered a violation of human rights and inimical to human dignity and national development.

It includes the following: Recruitment, transportation, or transfer of harboring or receipt of person;

If it is done with or without the persons consent or knowledge; It is done within or across national boundaries;

If it is committed by means of threat, or other forms of coercion, abduction, fraud, deception, abuse of power or position, giving or receiving of payments or benefits to achieve the consent of a person having actual control over another person; and if it is done for the purpose of exploitation such as sexual exploitation, forced labor or services, slavery, and removal or sale of organs or other similar acts.

What are the three categories of Trafficking in Persons (TIP)?
1.) Acts of trafficking in persons.
2.) Acts that promote trafficking in persons.
3.) Qualified trafficking in persons.

During the OFW portion of the discussion forms were presented to participants and they were instructed on how to fill out forms against the victims in either act.

A newspaper leaflet was included in the packet given to the participants during the seminar and it included legal recruiting agencies affiliated with POEA Department.

8th Bohol Ballet Dance Studio recital
By: Jerome Fiel Gabin
June 8, 2008

After the month-long classes at the studio along Belderol Street, the students of Bohol Ballet Dance Studio (BBDS) showed their entertaining repertoire during the dance recital held recently at the MetroCetre Hotel.

Dr. Arlene Uy, BBDS director, welcomed the parents and guests who came to view the dance presentations of the 3 groups composed of:

Maria Theresa Bolonghita, Margaret Victoria Sandidge, Andrea Nicole A. Stevens, Vivienne Kyla G. Abad, Vivienne Kylie G. Abad, Vinessa Kathleen G. Abad, Katrina Deloso Vito, Jemimah Shinani K. Tac-an, Amie Margaret Nazareno, Frances Lauren Ceballos, Cyreen Cabahug and Nicole Keanna Apsay (Group 1);

Fejay Louise Crerier, Claire C. Hongayo, Erin Kate Javellana, Calista Venus F. Williams, Sophia Nicole L. Lim, Angela Mari Lechago, Ilia Ramiro Tirol and Seika Matsuura (Group 2);

Group 3 - Hazel Pioquinto, AJ Wincielou Johanna Araoarao Gabin, Danielle Mae Autentico Floresca, Kyle Kimberlet Wayne C. Anobling, Marneth Amber J. Uy, Mariane Ashley J. Uy and Nicole Kimberly Apsay (Group 3).

During the recital, Louanna Sabellano Castañares, Physical Education teacher of the University of San Jose – Recoletos who facilitated the summer workshop, also performed together with the members of Cebu City-based San Diego Dance Troupe, aside from the ballet, Hawaiian, Tahitian and modern dance numbers of the participants.

Bohol SK Pop Idol '08 winners


By: Hope Lomotos / Vernel Sendrijas (foto)
June 8, 2008

One of the highlights of the Bohol Youth Week celebration for this year, the Bohol SK Pop Idol once again gathered the most talented youth in the field of singing coming from different municipalities of the province for the grand finals held at the Island City Mall Activity Center.

Tubigon's Mary Grace Torreon belted Regine Velasquez' version of "I Don't Wanna Miss A Thing" which won for her the top prize.

Regine Gamutan of Valencia who sang Whitney Houston's hit "I Have Nothing" got second place, while Maria Cielo Angelie Cajes, the newly-crowned "Mutya sa Trinidad," who rendered her interpretation of "Stand Up for Love" placed third.

Board Member Jane Censoria Del Rosario Cajes (extreme right), Bohol Sangguniang Kabataan Federation president, awarded the prizes to the winners assisted by the judges - Nova Jean P. Malolot, Fiel Angeli E. Araoarao – Gabin and Engr. Alexis Geral M. Balista.

Other contestants were Leonila Hinampas (Candijay), Roanne Marie Vallota (loay), Sarah Jane Olaivar (Guindulman), Dexter Ladaga (Garcia-Hernandez), Melody Rafols (Alicia), Al Francis Tamsi (Loon), and Mabel Enoraba.

It's no longer the Hotel BDRC without prisoner luxuries
By: Priscilla Richards
June 8, 2008

Just like the popular song made famous by the Eagles group "Welcome to the Hotel California", the prisoners who are now being contained and held at the Bohol Detention and Rehabilitation Center (BDRC) are no longer enjoying as if they are guest in the Hotel BDRC.

Prisoners can no longer check in any time that they want at Hotel BDRC bringing their contraband along with them that includes such items as heaters, Tanduay Rum, scissors, cell phones, and car stereos, aluminum sticks, improvised knives, numerous disposable shavers, and the list went on and on including nail cutters, rope and electric cords.

Eight television sets and refrigerators along with other bulky items until now remain in the custody of the BDRC.

Likewise at the place or Cobol near the kitchen where Nilo Corbita was found dead, the following items were found: .38 revolvers without SN, six (6) unfired cartridges for cal. 38 revolver, Bladed Weapons (knifes, improvised knives), Illegal numbers games paraphernalia (tally sheets etc), One empty shell for cal, 5.56 mm, and one deformed metal object believed to be a slug was recovered in the under chin of Nilo Corbita during inquest examination.

Friday morning's Governor's Report revealed documented items of prisoner's personal affects and contraband.

During the governor's report most of the media members present were given the itemized list of documents signed by PINSP John Gelbert S. Basalo.

Among one of the questions made by this writer is that there should be a more thorough background check when hiring of prisoner workers, as mentioned during the report, one employee previously jumped ship while working on board M/V Ken Shin and manned by Matagumpay Shipping Lines known as Western Shipping Management located in Sta. Cruz Manila.

He was stripped of being unable to sail abroad again. It was also discussed on how things were being brought into the prisons possibly by friends or family members who would bring personal affects into the prison sight and things were not being examined before handed to the prisoners.

Inking stated that the prison was ran in a lax state before and from there bad management habits have gotten out of hand at the cost of one mans incarcerated life.

Drainage di dawaton
Ni: Edward Guyano
Hunyo 1, 2008

Giaprobahan atol sa gipahigayon nga sesyon sa Sangguniang Panlalawigan niadtong Martes ang unod sa committee report ni Board Member Ae Damalerio, committee chairman on environment nga naghangyo ni Department of Public Works and Highways (DPWH) Secretary Hermogenes Ebdane Jr., nga dili dawaton ang i-turnover nga San Jose Street Drainage System Project ning dakbayan sa Tagbilaran kon dili makatuman ang DPWH sa gipasalig niini ngadto sa dakbayan.

Ang maong taho sa komitiba ni Damalerio nagsuporta usab sa baroganan sa Sangguniang Panlungsod ug ingon man sa kagamhanan sa dakbayan sa Tagbilaran.

Ang pagdili sa pagpadagayday sa mahugaw nga tubig ngadto sa bag-ong drainage system, gi-presentar pa kini sa mga kadagkuan ug moagi pa kini og panagsabot-sabot.

Basi sa report sa DPWH, si Engr. Celestino Adlaon mipadayag nga si DENR OIC Allan Aranguez nakigtigum didto sa Cebu tali sa contractor sa Hanjin Heavy Industries ug ang consultant sa DPWH sa 1st Engineering District uban usab ni Mayor Dan Lim, apan wala makatambong niini ang mayor.

Si Arranguez mimugna og duha ka mga rekomendasyon kabahin sa kahimtang sa maong drainage system.

Nag-una niini nga ipadayon ang maong proyekto bisan pa man sa mga illegal nga pagkonekta apan kinahanglan nga adunay waste water treatment ug pagahimoon ang pag putol sa mga illegal tapping kon walay treatment facilities.

Maoy gipili sa DPWH ang ikaduha nga rekomendasyon nga putlon ang mga illegal nga nagdugtong sa drainage kon walay treatment facility.

Si Engineer Greta Mende, pangulo sa Philippine Society of Civil Engineering Bohol Chapter kinsa mitubag sa init nga issue mipadayag usab sa iyang rekomendasyon nga gikinahanglan gayud ang Building Code ug ang septik tank usab alang niadtong mga establisamento ug mga patigayon.ug ang padayon karon nga illegal tapping pagaputlon gayud.

Namatud-an usab sa maong committee hearing nga ang isyu sa illegal tapping wala pa gayod masulbad.

Si Atty. Raul Barbarona sa Environmental Legal Action Center (ELAC) nagkanayon nga ang Hanjin Heavy Industries and Construction wala makatuman sa gikasabotan sa kontrata nga magtukod og storm/rain water drainage.

Midason usab siya nga ang kagamhanan sa dakbayan mibarog gayod nga dili modawat sa maong proyekto kon dili matuman ang gisaad sa DPWH.

Samtang sa laing bahin, si CENRO Nestor Canda nagkanayon nga ang dunay katungod nga moputol sa illegal nga pagdugtong sa drainage mao ang DPWH.

Kini maoy gipamahayag ni Canda atol sa gipahigayon nga binulan nga tigum sa mga sakop sa media.

Gipasalig usab ni Canda nga ang moambak nga tubig gikan sa drainage dili na hugaw.
| | |
| --- | --- |
| 25th AIDS Candlelight Memorial. Mga hepe sa nagkadaiyang buhatan sa kagamhanang probinsyal, national agencies, NGOs nagtapok sa Capitol Gardens sulod sa Provincial Capitol pinangunahan ni Provincial Health Officer Dr. Reymoses Cabagnot ug mga staff ingon man nila ni Board Member Yul Lopez ug Ae Damalerio ug mga kawani sa Governor's Office pinangulohan ni Provincial administrator Atty. Tomas Abapo Jr., UNFPA United Nations Population Fund Provincial Program Coordinator Roxanne Epe. Wala pay tambal nga nadiskobrehan aron pagsumpo sa maong sakit, 33.2 million ka mga tawo nataptan sa maong sakit tibuok kalibotan niadtong tuig 2007, 2.1 million ang namatay, lakip na ang 330,000 ka mga bata. (Bruce Zabala) | |
Kapitolyo molagda og MOA sa CVSCAFT alang sa mga out-of-school youth
Ni: Edward Guyano
Hunyo 1, 2008
Giaprobahan atol sa gipahigayon nga sesyon sa Sangguniang Panlalawigan ang resolusyon ni 3rd District Board Member Esther Corazon Galbreath nga nag-awhag ni Gobernador Erico Aumentado naghangyo sa pagtugot nga mopresentar ang lalawigan sa Bohol ug molagda sa gi-propose nga Memorandum of Agreement tali sa CVSCAFT Tagbilaran City Campus nga mopahigayon og pagbansay-bansay sa pagmaneho ug pagkat-on sa pagmentinar sa mga makina alang sa mga out-of-school youth ning lalawigan.
Ang kagamhanang probinsyal, pinaagi sa OPSWD mogahin og P3,000 matag estudyante, apil na niini ang magtutudlo ug ang mga gikinahanglan sa maong training.
Samtang mohatag usab ang nasangpit nga tunghaan og lugar niini alang sa pagbansay-bansay nga mokabat ngadto sa 120 ka oras ug pagahimoon kini sulod sa 15 ka Sabado.
HRMDO mag-usab sa struktura sa Kapitolyo
Ni: Edward Guyano
Hunyo 1, 2008
Nagpadayon karon ang buhatan sa HRMDO sa pagproseso sa pagahimuon nga reengineering sa estruktura sa kagamhanang probinsyal ning lalawigan sa Bohol.
Mao kini ang gibutyag ni Romy Teruel hepe karon sa maong buhatan, sa dihang gikahinabi sa JBBN.
Sumala pa ni Teruel, gumikan sa gidugayon sa estruktura sa kagamhanang probinsyal, gikinahanglan na niini ang re-engineering.
Ang balaod nagtugot nga ma-setup ang organisasyon aron makaplagan ang tukmang tumong niini.
Gidugang ni Teruel nga sa una ug karon, lahi na ang atong ekonomiya ug turismo, ug sa pagkakaron walay mandated office ang atong turismo.